Providing an engaging suite of self study online learning modules to engage the leaner and empower the organisation to achive success.
We provide engrossing learning solutions that provide learners with an uparalleled learning experience. Tailored and recommended courses that can be followed at a time, place and pace to suit the learners needs
Enterprise focused
NobleProg's e-learning solutions focus specifically on organisations whose learning needs are complex, distributed and demand a tie-in to business metrics. Catering for SME's and large Corporates across all sectors.
Our solutions are services portfolio comprises of a wide range of learning solutions for: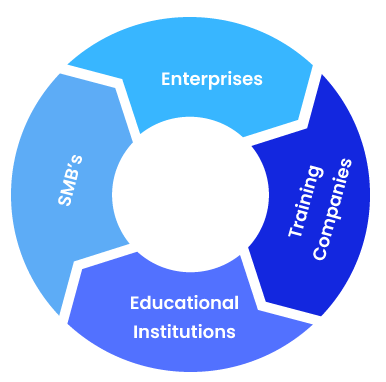 We provide a fully SCORM/AICC compliant LMS solution to meet our clients needs, offering both a turn-key solution and a "from the ground up" custom deployment.
Hosted on-prem or on cloud, we cater for every need.
We are authorised content solution providers and cater for both technical and soft skills learning needs.

With a vast catalogue in excess of 1,000 modules, available in English, Arabic and French we have an e-learning solution to meet your needs:
Management & Leadership
Cyber Security
Coding/Programming
Personal Development
Professional Efficiency
Project Management
Human Resources
Finance & Management
Marketing & Innovation
Purchasing
Quality controls / Safety / Environment
Courses are engaging, informative and fun, utilising:
Real-life situations and cases based on our experts' experiences
Entertaining, interactive training experiences - gamification
Pause and resume learning sequences - learners can stop and start as they like without losing track

Custom e-learning content development
At the core of any learning or training requirement is a business problem or a performance gap; gaps that are unique to an organisation. We recognise the uniqueness of your learning needs and work with you every step of the way to create the right solution that fills in these gaps by improving performance.
We create high impact and engaging e-learning solutions that aid in the seemless alignment of your company's learning and performance goals with it's business objectives.
The custom e-learning content solutions that are on offer include:
rapid authoriing
scenario based learning
game based learning
interaction based learning
application simulation and
localisation and translation
Over the past years we have nutured a vast experience in the following areas:
Learning Strategy & Design
Graphics & Animation
Interaction Design & Development
Creating Assessments
Conversion form ILT's to CBT's/WBT's
Creating simple learning games
Audio & Video integration